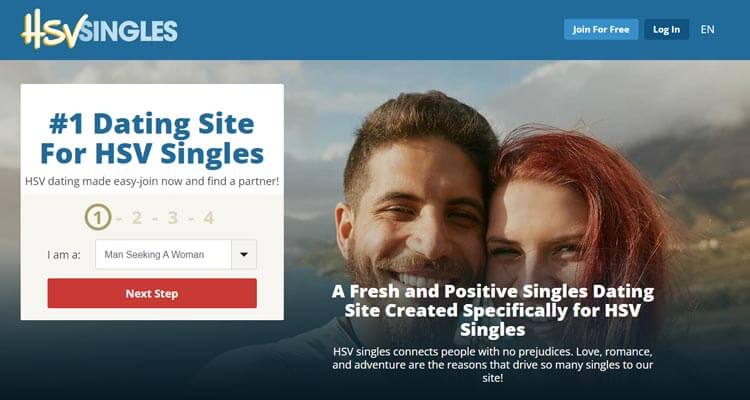 We've all been there, looking at the empty message space and trying to come up with an awesome introductory message. It cannot be too short or too long, too boring or too exciting but just right. Making the first move is a daunting experience and keep in mind we're talking about online dating sites in general. We, humans, have developed special non-verbal cues over centuries and centuries of communication and courtship. If someone smiles or looks at you in a certain way, you instantly know that there's a bond there. There's nothing like this in the digital world. You just have the message button and that's it. However, some dating sites are trying to change that.
HSV Singles is one of the biggest Herpes Dating sites and it features the new flirt feature. So, what is this flirt feature, how does it work and is it free? First of all, if you want to know more about the site we mentioned you can read our HSV Singles review. Moving on, if you join HSV Singles, you'll notice that on every profile there are two buttons you can use. You can either send a message to that user or send a flirt. If you decide to send a flirt, the user will receive a notification in their inbox with a link to your profile. So, you can see how this flirt feature is sort of a buffer zone between just looking at someone's profile and sending a message.
You don't have to come up with some super cool message or anything, just click a button and that person will know that you like them. This puts them in a good mood and regardless of what happens next, you should know that you've just probably made someone's day. It always feels good to be loved and this makes the probability of that person sending a flirt back even higher. Or who knows, they might even send you a message right away. Another thing you should know is that you can join HSV Singles for free. Yes, you read it right, this herpes dating site is free to use and the flirts are also free.

There are no limits or anything like that. As soon as you join you can browse the members' list, see who's online, and send messages and flirts. And since we're talking about a dating site for people who have herpes, you don't have to worry about any of the negative stuff you might encounter on other dating platforms. As we already talked about in one of our previous articles You Have Genital Herpes, So What? a recent study found that an estimated 3.7 billion people under age 50 (67%) have HSV-1 infection globally. And yet there's this huge stigma surrounding this issue. 
We don't want to get into this just now because we want to end things on a positive note. And that positive note is brought to you by this new Flirt feature that will help you make new friends and partners with ease. So, what are you waiting for, go out there and try it out? After all, it's completely free!